General WebSite MENU
Official reference site
of the Aporetic Music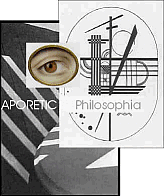 In these pages you will find informations on Aporetic Think, as far as useful documents, and audio samples to understand the main outlines of this musical trend.

APORETIC PHILOSOPHIA
APORHTIKH FILOSOFIA




WAP & UMTS Aporetic World Portal
Browsing informations
Since the new technologies were available, the Aporetic World Team work to support, develop and research on it. This's why we open this WAP and UMTS portal. You will able to browse thru Your personal mobile phone, PDA, or laptops our official site everywhere in the whole wide world. You'll be able to gather Your desired informations, and infos even if You're enjoying trekking on the Himalaya's mountain!


to browsing the web-portal, just type in Your 2G ~ 3G mobile phone, or similar PDA, this address:




http://www.aporeticworld.com/wap



Remember that this portal will be correctly viewable, only with Your portable device (Cellular, PDA, UMTS devices, or similar), supporting WAP 1.1 or next.
If you receive error message like "contents not supported" or similar, try to open directly this link in the menu "goto" of your mobile PDA:



http://www.aporeticworld.com/wap/index.html



We provide both the technology supported.